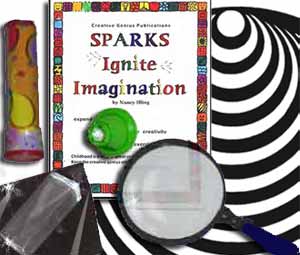 Creative Science Kit - Optics
Optics Creative Science Kit - Ages 8 and up
Sending gifts is easy with Creative Genius Science Kits.
The Optics Kit features mirrors, a prism, a kaleidoscope, a magnifier, optical illusions, suggested experiments and a Sparks Ignite Imagination book. Explore light and it's properties and learn how we see the world.
Let us send your birthday, holiday, or get well wishes for you. We will enclose your personal message on a card. No pricing information will appear on the packing slip.
$30.00 and $8.00 shipping

All major credit Cards accepted.
Processed through PayPal for your security.