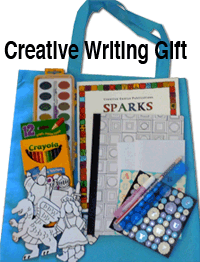 Send this to your favorite writer.
Sending Gifts Is Easy
The Creative Writing Gift comes with a design-it-yourself writer's notebook, two small blank books, alphabet stickers, design-your-characters eight peice set, colored pencils, ruler, glitter glue and for inspiration, a Sparks Ignite Imagination book. All these and a handy tote for storing your creations will be Gift Wrapped and Shipped to your favorite aspiring author. Let us send your birthday, holiday, or get well wishes for you. We will enclose your personal message on a card. No pricing information will appear on the packing slip.
$39.50 and $9.50 shipping

All major credit Cards accepted.
Processed through PayPal for your security.