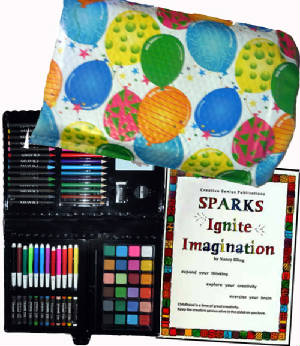 Creative Gift Pack for Birthdays
THE BIRTHDAY GIFT PACK
Send a special birthday gift to the one you love.
Your gift will arrive in this colorful birthday balloons wrap.
We will enclose your personal message on a card and no billing information will appear with your gift.
The Birthday Gift Pack has everything you need to get started creating as soon as you open it.
$32 shipping included.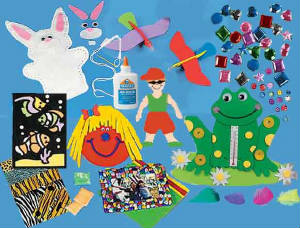 Birthday Fun Kids Craft Box

Say "Happy Birthday" with a box of craft activities with complete directions and everything they need to make puppets, sand art, collages, gliders and more. Your birthday gift will arrive colorfully wrapped, full of surprises, and with your personal message enclosed on a card.
Let us send your birthday wishes. No batteries required. Creativity included.
$25.00 and $8.00 shipping